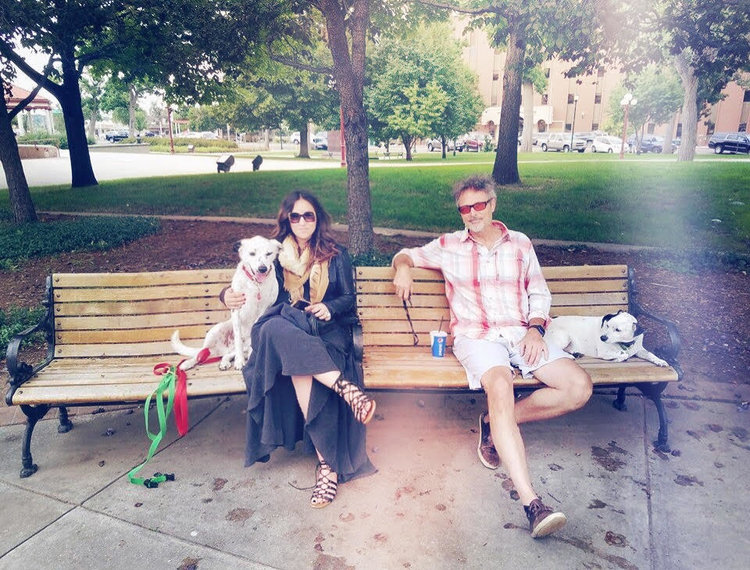 Melvin and Henry are two amazing pups who are well-loved by Samantha Ruble and Lin Bacon. In preparation for their move abroad to Barcelona, they wanted to make sure their boys were ready for the trip. Especially since they are Emotional Support Animals and would be with Samantha and Lin in the cabin and through customs for the whole thing. After speaking to another friend, who put their dogs through my training, she finally decided to take the plunge and enroll Melvin and Henry into the 4 week Board & Train. After that, I met them half way in Hays, Kansas since they were traveling from Oklahoma.
During the 4 week with me, the boys learned how to behave, stay calm, and have great off-leash abilities. When time was up, Samantha and Lin traveled to Colorado Springs to have a mini-vacation and spend 2 days with me to make sure they knew how to keep Melvin and Henry acting like the great dogs they are.
My heart did indeed explode when I saw them!!! And you guys…they are like brand new dogs. They are so well mannered and I am so thrilled for their freedom. We enjoyed a patio lunch and then hung out at a downtown park where they were off leash for the first time of their entire lives in an open public area with cars and people. Seriously the best investment we have made. – Samantha Ruble
All-in-all, Mel and Hen are doing great and with the move to Barcelona approaching fast we are excited to learn more.
---
If you are interested in knowing more about Melvin and Henry's adventure or even about Samantha Ruble, check out her blog Go French Yourself. She even has a few posts about training with me, check them out here: Summer Camp, Adventures with Melvin & Henry, Mountain Time Part Two, & Mountain Time Part Three